This was officially a trend. Early starts. We checked out of Le Port-Royal (which we absolutely loved for its amenities, location, and cleanliness), and walked to the Via Rail station with our luggage. This station was beautiful, designed by the same architect responsible for the Chateau Frontenac. The staff were very helpful to a family toting too much luggage and a baby, and we were soon seated in the priority boarding area. I got chastised for trying to take a picture inside the building. After some clarification, I deduced that I was allowed to take a photo if I was in it, but not just a regular picture. That kind of pissed me off, because I saw plenty of other people with their phones out. There must be something about a DSLR that makes grouchy security ladies grouchier. Here are a couple iPhone grabs: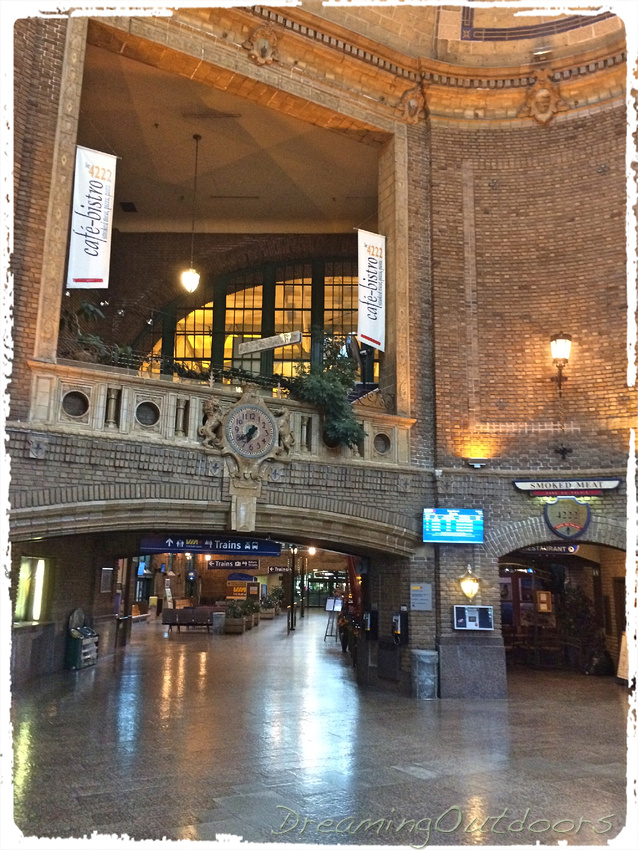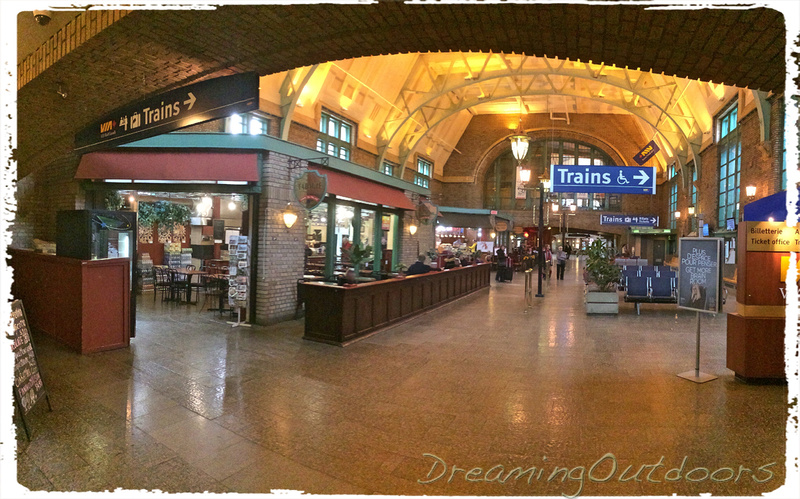 The train was spacious and comfortable with reasonable wifi; we enjoyed our train journey to Montreal with just a few short stops en route.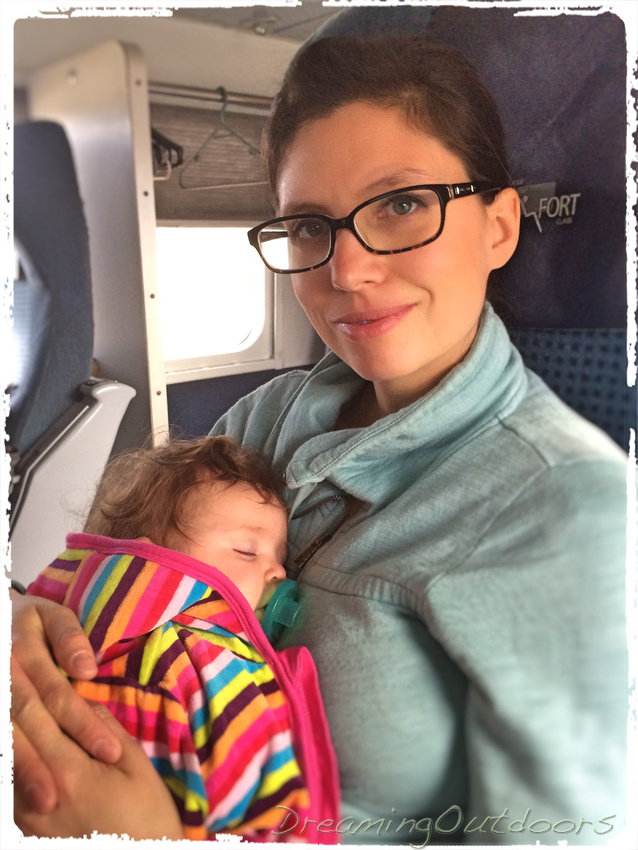 Upon arrival, we got oriented and began walking towards McGill and our hotel for the night. It was a bit of an adventure navigating crowded streets with lots of luggage and a stroller. How anyone with a wheelchair can go in or out of any building in Quebec City or Montreal is a mystery to me, as ramps don't seem to exist.
Fortunately we were able to check in early, and had a power nap and lunch before heading down to Old Montreal. We walked around for a while before sitting in the park a while to enjoy the sunshine. We scouted out a location to return for sunset, near the clock tower, and then settled on dinner at The Keg on Rue Saint Paul.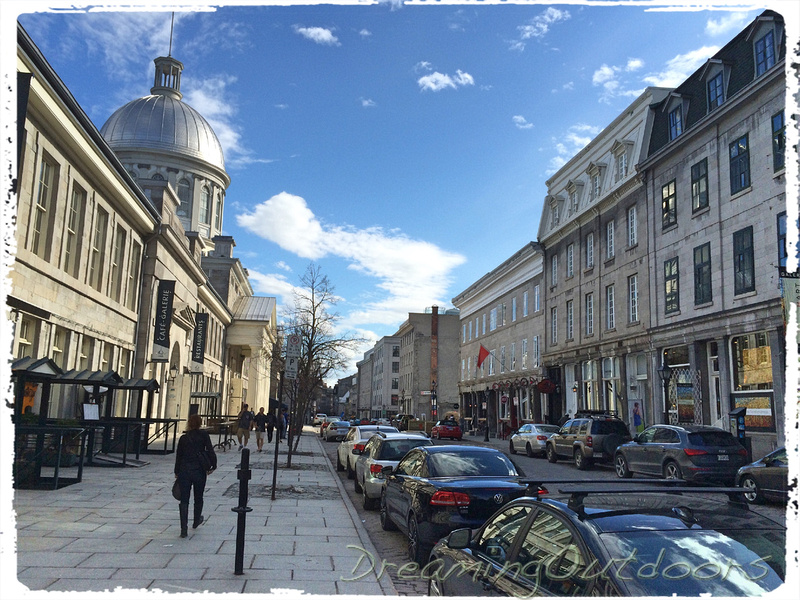 After dinner, we walked back to Le Vieux Port and anchored down for sunset.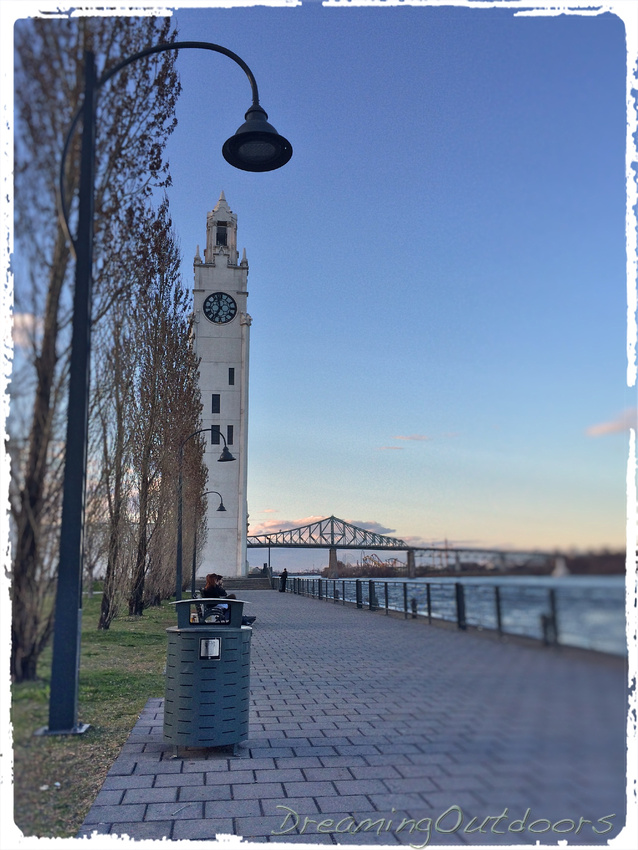 It was a great spot, and we wondered what a helicopter was doing hovering over downtown for well over an hour. We wondered if it was getting aerial footage of the Bell Centre where the Canadiens were facing off against the Lightning, but it turned out to be a May Day demonstration and police kettle. A couple worked-up demonstrators warned us to avoid the area where they, with flags, signs, and gas masks, were taking it to the "capitalist bastards." We had no idea what May Day meant, and they were surprised by our puzzled looks. We got the insinuation that we looked more like capitalist overlords than disenfranchised workers from them as they crossed the street, but nevertheless they were quite concerned that we keep our bourgeois baby clear of the fray. Anyway, it was quite a scene from our vantage point a block away.
On the way back, we walked past Notre Dame: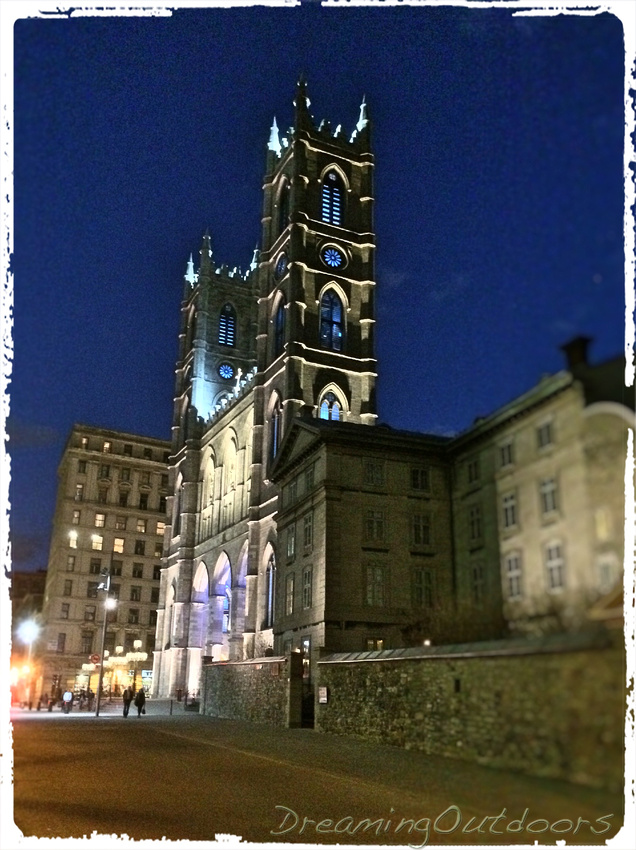 For just one half-day in Montreal with a baby, I think we did it pretty well!