After a few emails back and forth between Clayton and me, we had settled on a backpacking destination for the long weekend which ultimately got derailed late Friday night when I learned the trail had been closed for high bear activity. Now past 11:30pm and sitting outside a gas station in Wetaskiwin, I woke him up with a phone call to inform him of the news and to try to come up with a back-up plan (which, of course, we should have done in the first place, in addition to checking the Parks trail bulletins).
Lake of the Falls was one of my first significant backpacking destinations several years ago, and having been quite a while since Clayton had been there, it immediately held some promise. Being outside the Parks, it would require a minimum of planning and fit the three-day itinerary. We chose the difficult ascent route up Wildhorse Creek and over the col to Landslide Lake for scenery, simplicity, and novelty.
Day one was long. We gained 1000 m over the first 5 km before descending sharply to Landslide Lake. It's a long walk from the upper meadows past the lake, and then a short 2.8 km through the forest to the junction with Entry Creek. New since our last visit was a couple kilometers of re-routed flagged/cairned trail zigzagging through rocks and fallen trees since the floods a couple years ago. It was easy to navigate and there were no major obstacles. We then gained about 650 m up to Lake of the Falls, completing a 12 hour day over 22 km. I was happy with how my legs held up on my first hike since last year at the same time. There were only 4 other camps at Lake of the Falls; Landslide Lake, by comparison, seemed quite busy. A few folks had pitched camp around the fork along Entry Creek. The camping area at the far end of the Lake of the Falls is preferable for hikers and photographers; it is very well laid out with a green throne, flat tent sites, and fresh running water down the hill. The areas along the lake are handy for fishermen, which seemed to be the majority on this trip.
Here are some pictures from the first day: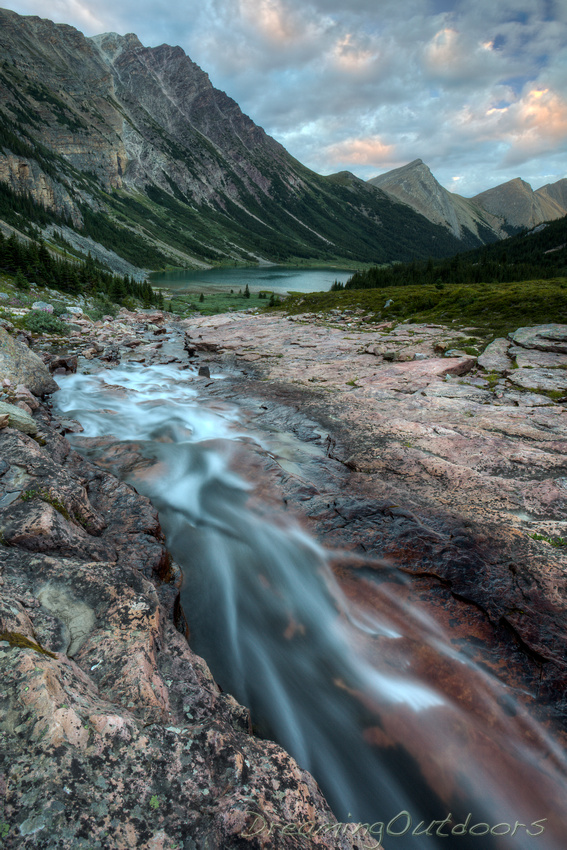 Day two was more relaxing. We poked around in the morning, taking some photos, and then moved camp to the meadows above Landslide Lake. We found an excellent spot on a bench at treeline, with good visibility and clear water below. We had a great evening as the smoky sky turned orange for sunset, and retired for another peaceful evening in the backcountry. There seemed to be a lot of campers at the lake, and it was nice to have the solitude and views from the meadows. Here are some photos from the second day: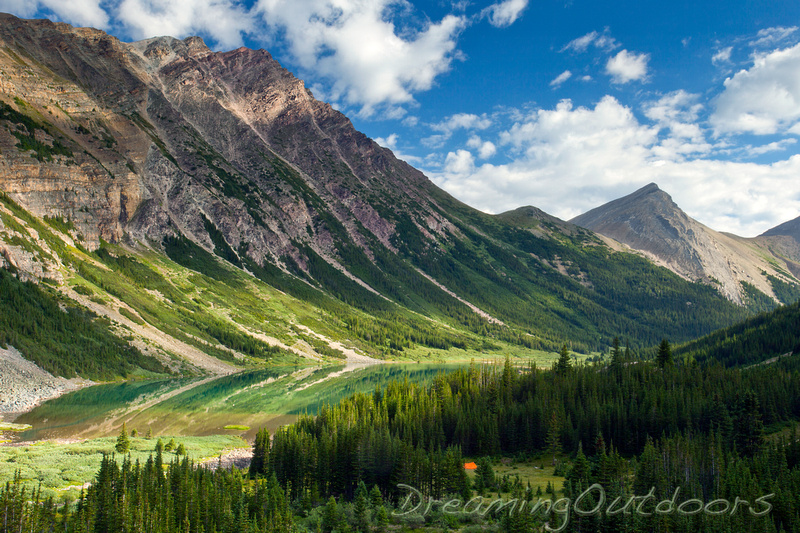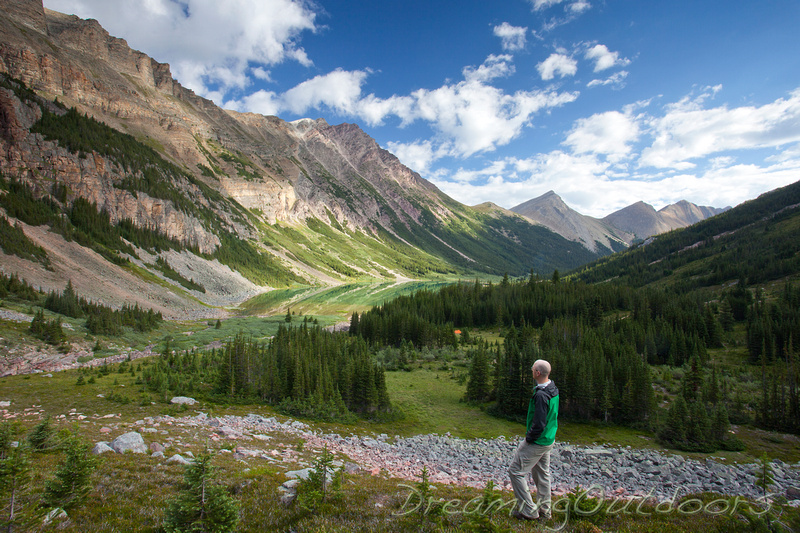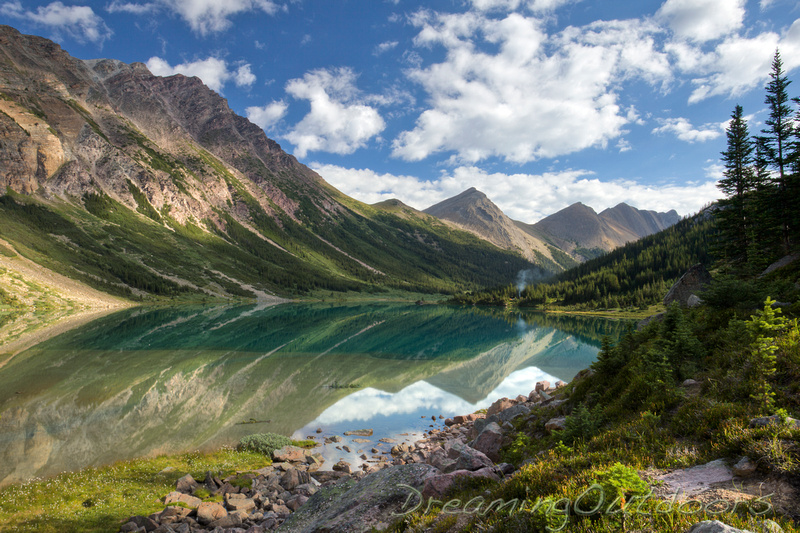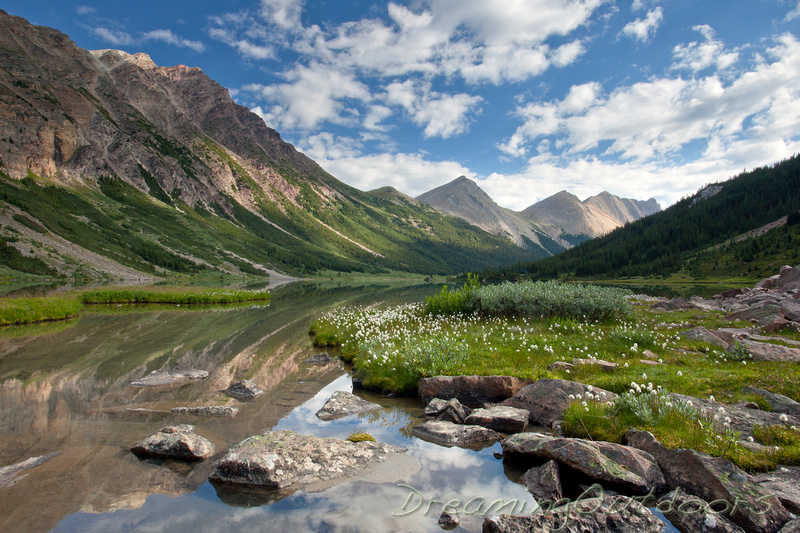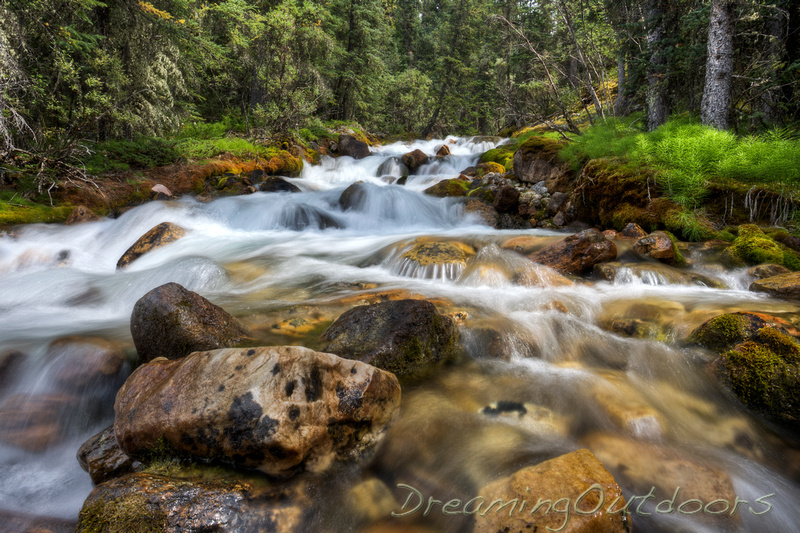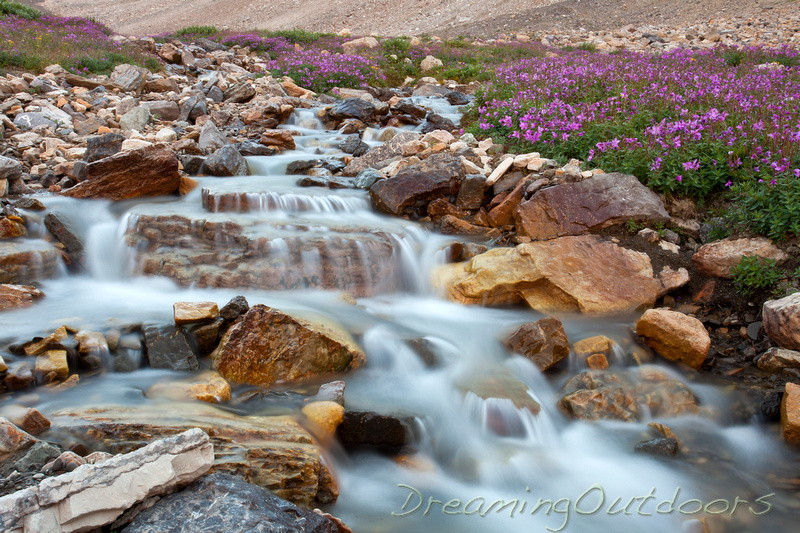 The ascent to the col the next morning was quite straightforward, and we detoured slightly up the small peak for a different view of the area. We soon learned that 1000 m straight down is almost as unpleasant as 1000 m straight up. Regardless, we arrived at the vehicles in good time, but with sore feet. For a hastily planned trip, it turned out very well; the weather was fantastic, the scenery as good as I recalled, and the company was good as always. I only took one photo on the last day, but linked together some videos from the weekend at the end: