Saturday, May 24
Our day started Friday afternoon. The previous weeks had been stressful as we were moving into and renovating our new acreage. To say a holiday was in order was an understatement. Adding to our anxiety was the strike action on the part of the Icelandair pilots, thankfully resolved only a couple days prior to our departure. Everything did work out and things went off without a hitch.
A short 6 hour flight found us at Keflavik and soon into the awaiting shuttle to our RV rental agency, Touring Cars. We spent a good couple hours in their warehouse, first watching a video about our vehicle, then receiving a demonstration, and then inspecting every inch of it for damage and taking pictures. A strong east wind pelted the tin roof with rain as we wrapped up at Touring Cars.
Eager to put some distance between ourselves and the airport, we drove to Hveragerði, a town surrounded by countless hot springs. We bought some groceries at Bonus and, having not slept much on the plane, drove just out of town for a nap. We had planned to do a short hike up to the hot river, but it was still cold, windy, and rainy, and we concluded that we would likely get a similar chance elsewhere along our journey. I took this photo just outside the town:
We stopped for supper on a side street in the town itself, and when we wondered where the steam was rising from, we found this geothermal cafe: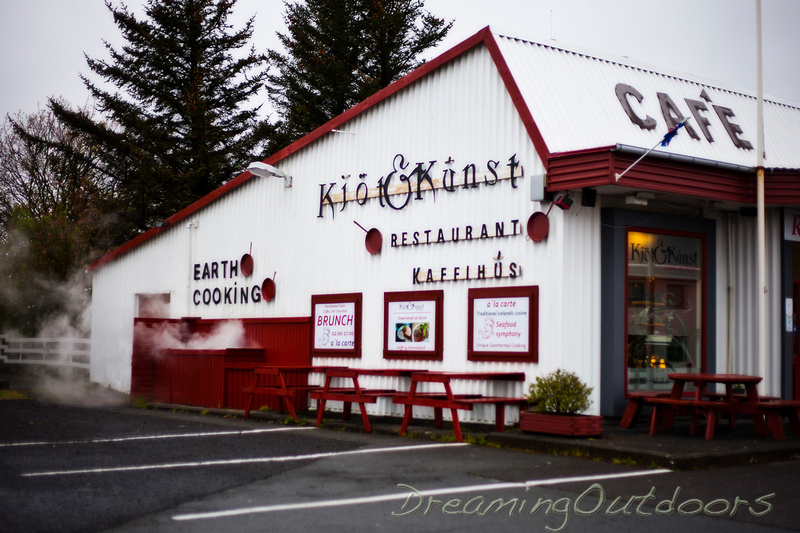 We drove up to Geysir by way of Skálholt in the pouring rain and low visibility, where we parked outside the local campground for the night.