My wife and I took our one year-old son backpacking over the Saturday and Sunday of the August long weekend for the first time. We had perfect solitude at Kinglette (Kinglet) Lake in the David Thompson, while every campsite and pull-out along the Highway 11 corridor from Rocky Mountain House to Saskatchewan Crossing was packed with campers.
The hike itself is short and steep, gaining 750m over 4km. No switchbacks here.
We left home on Saturday morning, figuring it easier to wear our hiking clothes and have our bags packed, than to rush out Friday night, sleep somewhere, monkey with breakfast and the child, and re-pack. Not to mention the dog was playing a part in this adventure too (we forgot to reserve a spot at the kennel in time). This is but one example of how the baby has changed our decision-making. Normally we would sleep in the vehicle or camp after driving late, allowing us an early start on Saturday (not that one needs an early start for Kinglette Lake other than to avoid the hot afternoon sun on the steep south aspect). However, it did backfire a bit because after all that time in the car, he was not particularly excited about sitting in the backpack.
The sun was hot as we headed straight up the slope and the additional gear made the climb a bit more strenuous than usual. Regardless, we arrived at the lake in good time and got busy setting up camp on a lovely little knoll south of the lake. We were pleased to find no traces of garbage or waste around the lake. A little green throne was in pretty fair condition too. To our surprise, the few fishermen who were at the lake departed before supper, so we had the whole place to ourselves -- on the long weekend of August! This turned out to be a good thing, because our son had about 4 incisor-related crying spells in the night which certainly would have woken up any neighbours. The one thing we forgot to pack was a pacifier.
At night, we laid him on a blue sleeping mat between us. He was dressed in a sleeper and a snowsuit with mittens. However, not being able to squirm like he does at home in his crib meant he woke up a few times. The teething thing may have factored into this as well. After some heavy rain and thunderstorms overnight, the morning began to clear at our elevation, while the valley was was shrouded in fog. It was quite beautiful as the fog lifted towards our camp.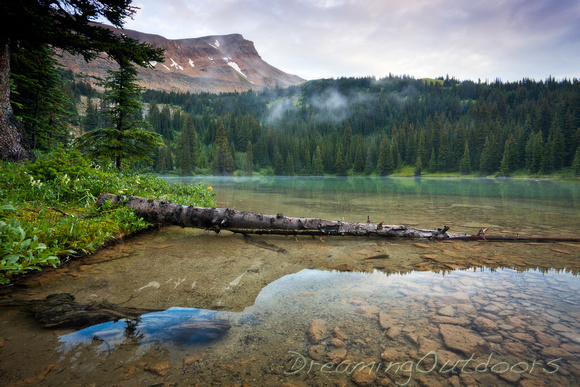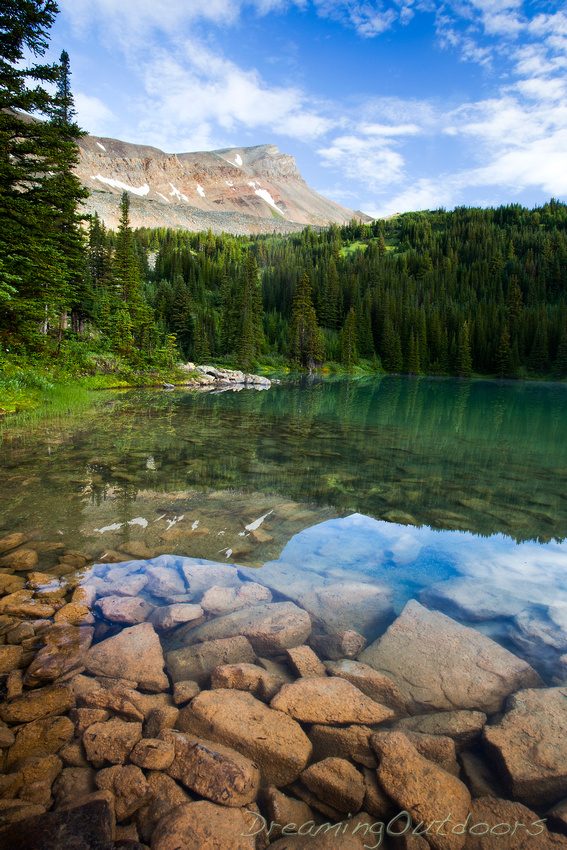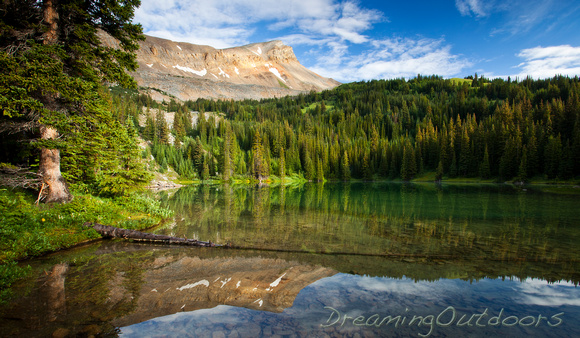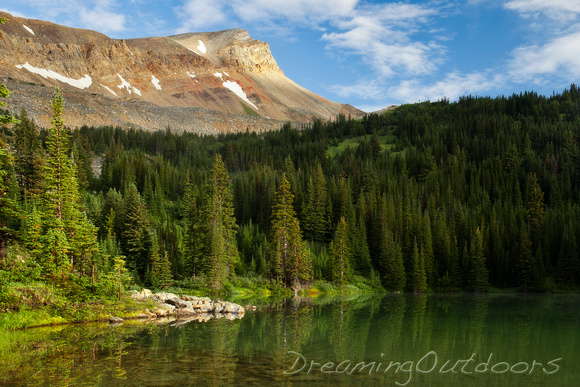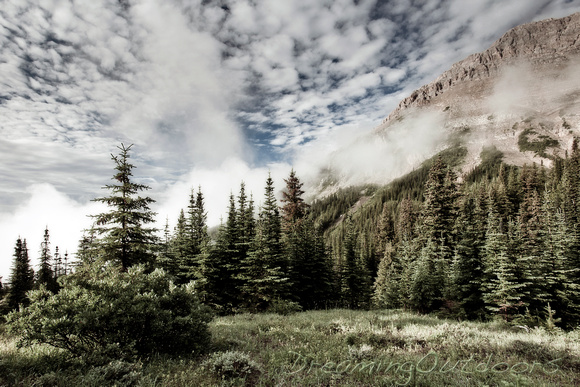 As far as packing goes, this is what we did:
My wife carried him in a backpack carrier. He wore a sun hat and sunglasses. In the backpack: all our food, alcohol stove and methanol, water filter, diapers, wipes, Ziploc bags, sunscreen, toothbrushes/paste, baby's bottle, snacks and dog food.
In my pack: tent, 3x sleeping bags and pads, 2x down jackets, baby snowsuit, 2x Goretex shells, 2x base-layer bottoms, first aid kit, survival kit, pot and utensils, toilet paper, camera, tripod, 2x headlamps, large garbage bag. The dog was leashed around my waist as well.
In all, it was a success. However, it was a lot of effort for the reward, particularly because we couldn't truly relax when we were constantly tending to the little one. The dirty diapers added to the weight penalty but it wasn't as much of a hassle as I thought it might be.
Now that we proved to ourselves we could backpack with a baby, we don't necessarily feel in a hurry to replay the same scenario (unless some friends come along as sherpas, hint hint). Our next adventure might be canoe tripping and see how that goes. It was a fun and memorable weekend, though!