Eager for an adventurous hiking goal in Drakensberg, Cathedral Peak was the natural choice from Didima Camp. However, as I was researching the route online prior to leaving Canada, I had a tough time predicting the difficulty level to any degree of certainty. Perhaps this trip report will help others in the future. Please leave a comment if you found this helpful (or not), and I'd love to hear from anyone who's been there!

Having a fair bit of experience in the Alberta Rockies, I am most familiar with the Kane ratings for scrambles: easy, moderate, and difficult. I'm also accustomed to seeing crumbly shale and limestone. Though I am sure-footed (and handed) and agile, I have never liked scrambling with a lot of exposure due to my relative unease with heights. I have done very little climbing. I found some technical gradings on a reputable South African hiking website, but was unable to correlate these ratings with my own personal experience.

The statistics for this hike/scramble are close to 20 km and 1500 m elevation gain. They recommend giving yourself 9 hours to complete the objective and people call it "pretty difficult." Now, I've been given the recommended times and subjective reports for international hikes in the past, and found that they completely overestimated the hike. In this case, I think they pretty much hit it on the head. I would only recommend this hike to reasonably experienced hikers and if you don't know what 20 km and 1500 m feels like, then just perhaps this isn't the time to find out. However, if you've experienced 20 km days with 1000+ m gain in the Rocky Mountains, you will find Cathedral Peak pretty reasonable. I would rate it a moderate scramble with a couple short technical sections.
This is a small braid of the river crossing:
It's quite unrelentingly uphill starting early on. At one point, perhaps 1/4 of the way to the summit, you reach an open plateau above a little waterfall. It's a good place to get fresh water, although there is a small spring later on and perhaps a stream in the gully leading to the summit climb. The trail itself is well maintained and the footing is secure. At the base of the gully up to Orange Peel gap I was anticipating a bit more of a scramble but a trail switchbacked up the gully proving it to be nothing but a steep walk.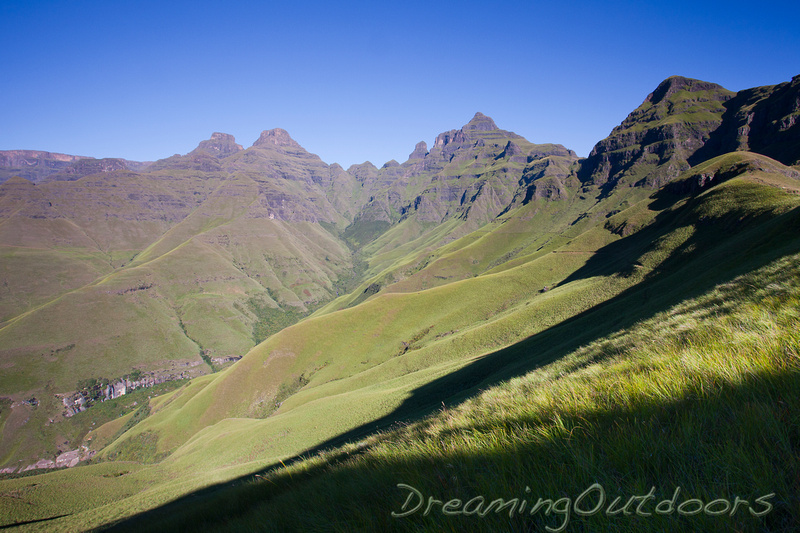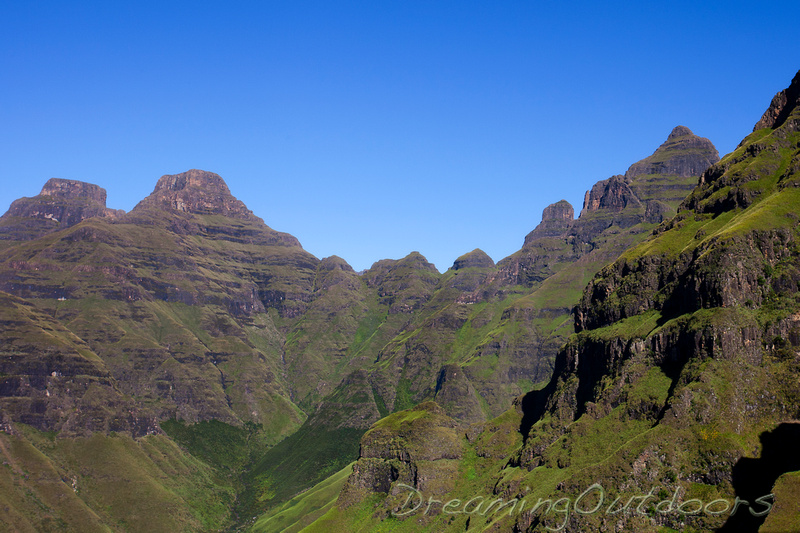 Orange-Peel Gap, just past the half-way point, is a nice objective on its own, and makes for a turnaround point that doesn't feel like a failure. This is what happened with Tim, as his legs started cramping badly on the steep portion of the hike. He turned around at this point and Absalon (the camp guide) and myself scampered towards the summit. After the Gap, there is a long traverse during which we spotted baboons on the slope. Halfway along this traverse there is a spring.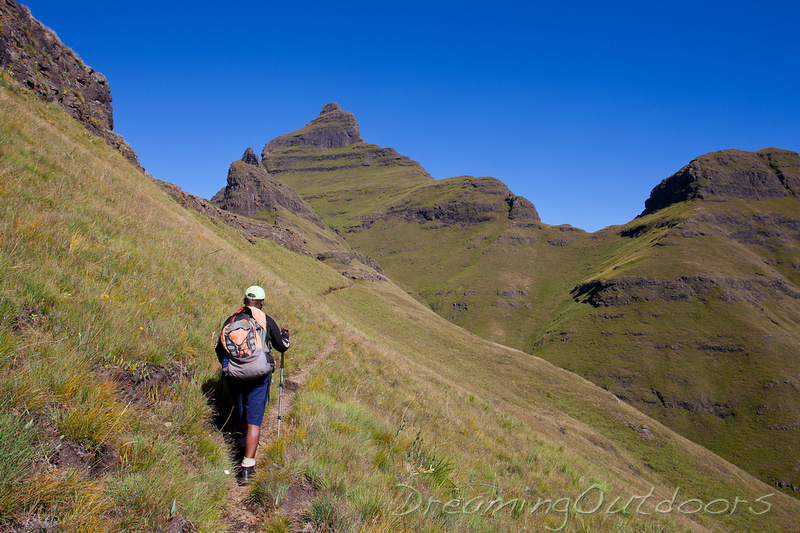 At the end of the traverse, you find yourself looking up a long gully. This is a pretty tedious slog. We got water from the stream on climber's right. At the top of the gully, this is the view: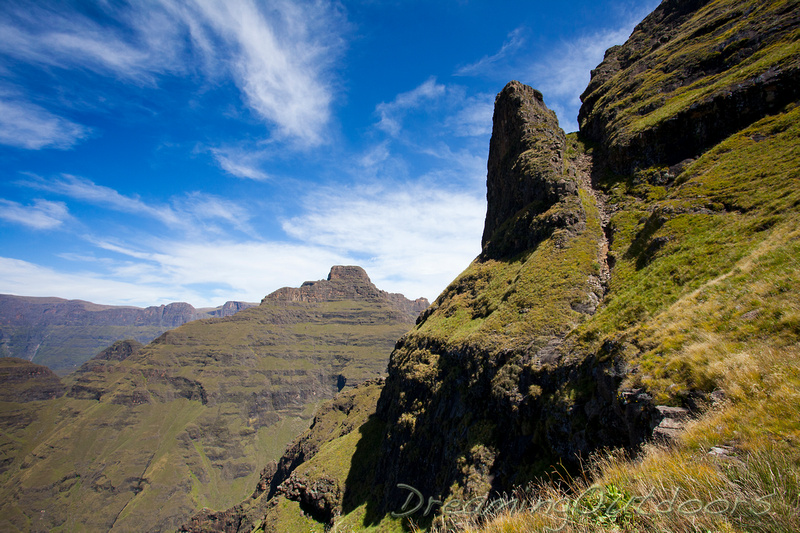 Looking upwards and unfortunately out of the frame, the actual scramble route goes straight up to the right, crossing the narrowest parts of two rock bands. As far as difficulty goes, this is the crux. If wet, the rock can be extremely slick. If dry, it's not bad because the old basalt is smooth and provides reliable holds. It does require some technical moves, or a lot of tense coaching from your guide I'm sure. It's about 15 feet of kissing the rock and then you're back on your feet. The second rock band is easier than the first. This photos shows the approximate route: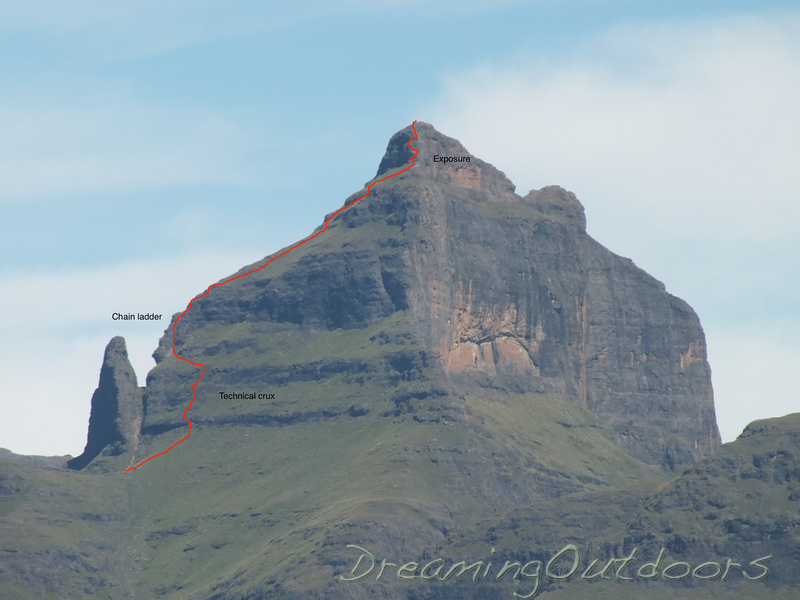 Beyond, it turns into fun scrambling on good rock. I was glad to have the camp guide with me to pick out the best route. A fall could be really scary in a few places where there is some exposure, yet the probability of a fall for the sure-footed is quite low. I am not great with exposure, and I felt comfortable in my abilities even though sometimes my heart told me differently.
There is a chain ladder with maybe 15 rungs on it fairly close to the summit which was well anchored but for some reason played with my mind a bit. Next thing I knew, I was taking in this view: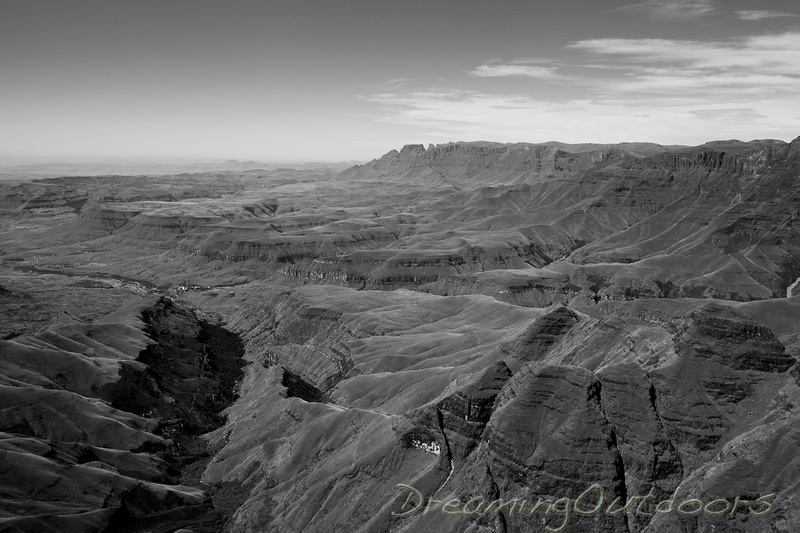 The descent was quite uneventful and the downclimb was a bit easier than I expected. However, we did rappel the lower rock band just to be safe. We kept a very rapid pace on the way down and ended up only an hour behind Tim back at the hotel. We sat and had a coke on the patio, and I think it was the best coke I've ever had!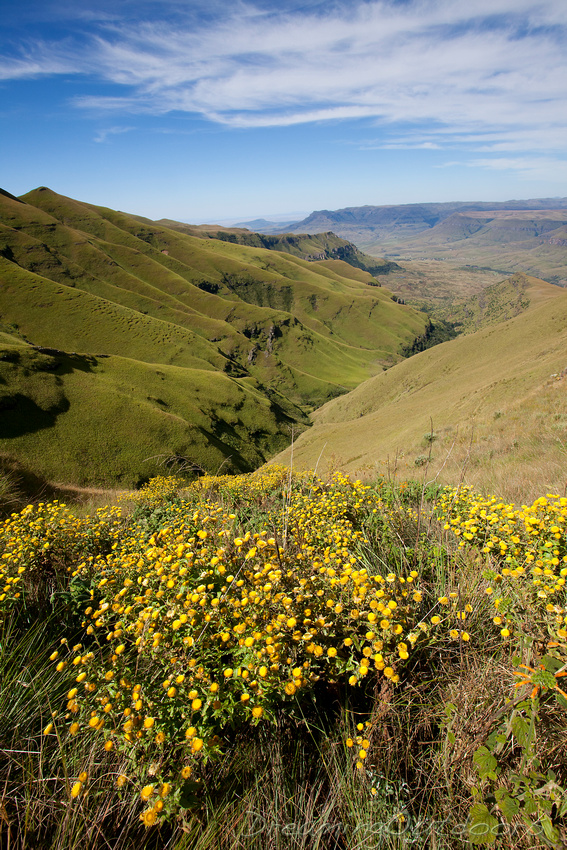 Here is a little video with scenes from the hike: