Myself and the better half spent four days in Skoki after the long weekend, and were treated by fantastic weather and remarkable solitude for such a popular area. There hasn't been a TR from Skoki in a while, so I thought I'd share some pictures.
Day 1: Trailhead to Merlin Meadows; 15.7 km
It was a warm day after way too much cold and rain over the long weekend. The hike up to Boulder Pass was uneventful. We saw some sheep, fat marmots, and a pair of bald eagles on the hoodoos north of the pass.
Swarmed by bugs at Ptarmigan Lake, we continued up the gentle ascent of Deception Pass. Great views down Skoki Valley from the col.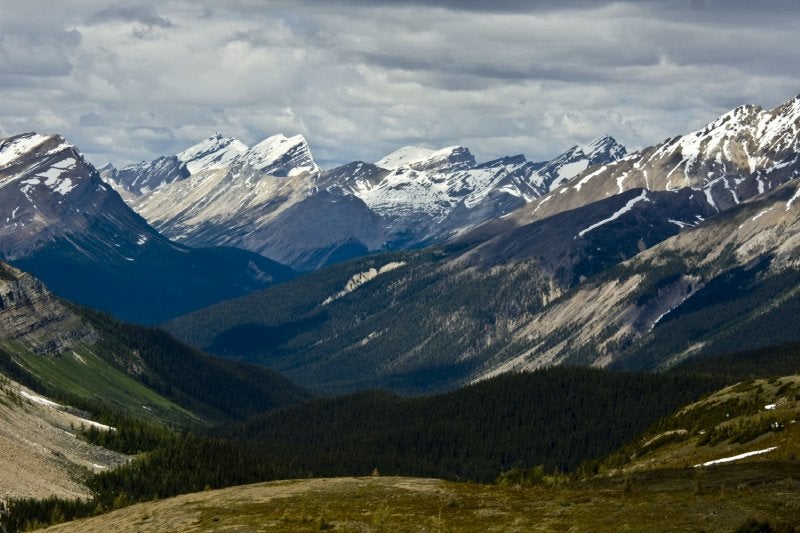 Zigadenus Lake was still frozen but Myosotis was clear. There were only a few patches of snow on the north side of the pass.
Merlin Meadows was deserted when we got there, and we settled in for a nice long nap. Only one other group arrived later that evening.
Day 2: Dayhike to Merlin Lake; 6 km
I got up early to take some shots in the meadows.
The route up to Merlin was occasionally soggy in the valley but in overall good condition up to the lake. I tried to go for a swim in the lake but in the end it wasn't quite hot enough to convince me to dunk the top half.
We spent the rest of the afternoon at camp napping, eating, and napping some more. We had the whole place to ourselves this night. The only thing that wasn't perfect was the mosquitoes.
Day 3: Baker Lake via Jones Pass & Cut-off to Cotton Grass Pass; 8 km
This was a nice easy day. Here is Jones Pass:
We elected to take the cut-off trail to Cotton Grass Pass rather than detouring to Red Deer Lakes which we thought would be pretty buggy. The avy run-outs on the north side of Fossil still had a lot of snow which made the going a bit tricky for a short time. Then, the descent to Cotton Grass Pass: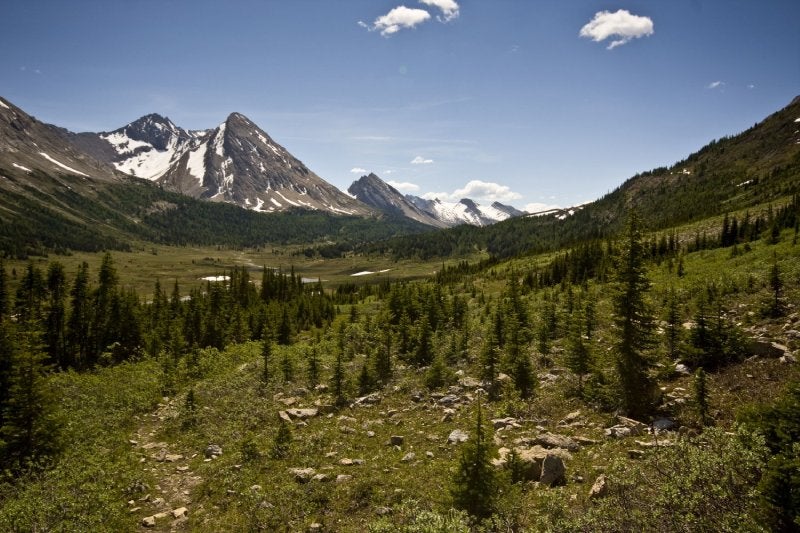 We reached Baker Lake by early afternoon and while there were a couple tents set up, we didn't see anyone. It was getting really hot, so out came the tent footprint, on went the sunscreen, and we proceeded to have another lengthy nap down by the lake, taking intermittent dips to cool off. By evening, we finally had a few other groups show up. The first we'd seen of anyone in a couple days.

We saw a golden eagle soaring past Fossil Mountain and the sounds of the loons made for nice evening music. An osprey swooped in and snagged a fish while we were at the lake. Very cool.
Day 4: Baker Lake to Trailhead; 13.1 km
The last morning was perfectly calm and warm. I got up to watch day break. The way out was quick, thanks to the Lake Louise staff for a lift!