This began a very good business trip to England. I worked Wednesday morning, left at noon, and arrived in London late Thursday morning via a Vancouver stopover. Unfortunately the Heathrow-Paddington express train was out, so I endured 24 stops on the Underground to King's Cross. I used to find international arrivals so disorienting, but by now less novel and I walked confidently in the drizzle past St. Pancras towards my aparthotel. This was the first photo I took: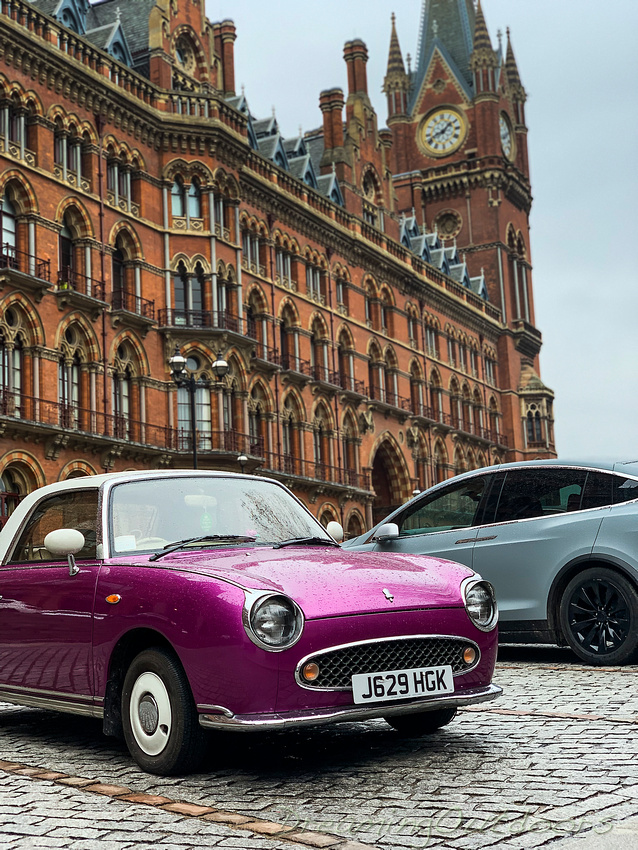 I walked past a coffee shop called Origin on my way across the street. Then I doubled back. What was the hurry after all? So I sat at the window, sipping an espresso with a veggie toastie, slowly acclimating to my new environment. Later, having checked into my hotel and getting cleaned up, I went to a grocery store to pick up some yogurt and bananas for breakfast.
Then it was off to Camden Market for a meeting. We wrapped up around 8:00, so I found myself back at my hotel quite early. The intelligent thing would be to go to bed. However, I couldn't pass up the opportunity to see the Thames for a second time. I took the Underground to the London Bridge station, walked along the south bank to Millennium Bridge, and hoped to see the bridge nicely lit up. It was not, so there would be no photo opportunity on this occasion. I crossed the bridge and carried on towards St. Paul's. I quickly found myself in a great perspective with excellent foreground leading lines and lighting. So this is the only DSLR image I have of London on this trip, but I'm quite happy with it:
The next morning I was off to Liverpool, so I hurried back to repack and turn in for the night.