"Well, off I go, into the night," was the echo that accompanied the last warm sips from my mug of Slovenian craft ale. Here, in an Irish pub tucked away in an alley basement in the old city of Ljubljana, I had found more than the 1-1 Real Madrid-Tottenham draw I'd arrived for.
A few hours before, I'd slain the dragon city with a lucky photoshoot from the Neboticnik cafe terrace. Well, I suppose it wasn't just luck. I'd arrived just before sunset, not wanting to loiter for too long. I'd chosen a place near to one of the high bar tables that sat somewhat privately on the southeast corner of the terrace. I'd watched as the couple finally paid their tab and made their way from the table, then slid in amongst their crumbs and crumpled napkins to secure my position. It cost me only two pints on an empty stomach, but I would have paid far more as the overcast sky erupted ethereal rose for twenty, maybe thirty seconds, before fading to the blue that would usher in the night. My tripod perched unobtrusively on the table, positioning my camera over the glass to freeze the moment not only in my mind, but now on my screen: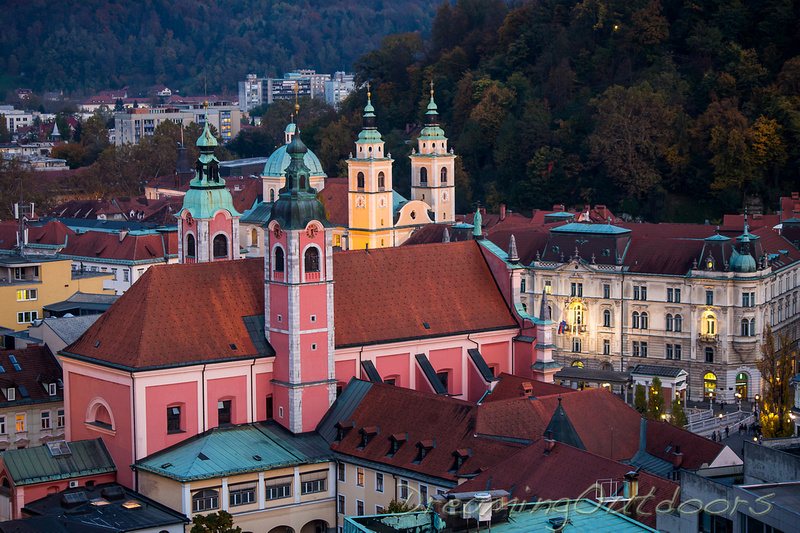 I entered the bar a few minutes after the start of the match, having stopped first for a dinner of traditional Carniolan sausage, then at the hostel to back up my files from the day. To my memory, it was a welcoming pub, dimly lit of course, with walls of brick and arched doorways granting it an appropriately cave-like feel. There were two rooms sharing the adjacent sides of the bar. The first room was full of traveling Liverpool supporters and local Maribor fans gathering side by side for the Champions League match-up.
I asked for the Real Madrid - Tottenham match, and the accommodating bartender flicked on the TV in the other room for me. There was only one other patron on this side and, pulling a stool up to the counter, I asked for some help deciding between a couple different IPA's. The slim, long-haired young man a couple stools over made his recommendation, which settled the matter for me.
"So what part of the world are you from?" he asked in an accent that could have been my own.
"Canada," I answered. Then realizing he must be American, if not Canadian, quickly added, "Alberta. How 'bout you?"
"You wouldn't know it. Have you heard of Nelson?"
Count me among the unsurprised.
"South of there, a small town in Washington," he continued.
For the socially curious, this guy was like that big mysterious Christmas present having an odd shape and a low clunky rattle near the bottom, and couldn't ever be wrapped very neatly, but attracted your fascination more than all the others despite itself.
His slender forearms seemed poorly matched for the heavy glass beer mug frequenting his lips. Under the brim of a dark flat cap was long, stringy brown hair that draped his shoulder blades, and these were punctuated by a long nose and hollow cheeks that made my sister giggle when I told her reminded me of Niccolo Paganini. My wife, the hygienist, would have been drawn immediately to the periodontal situation revealed by his kind and nervous smile. This was a guy with a back-story.
We chatted back and forth casually as I looked down from the soccer game at times. He didn't have any interest in the match, and had moved into the quieter side of the bar after discovering he was too tall for the Liverpool guys to see over. It was obvious that Ljubljana meant something to him, since it would take anyone in their early thirties a fair bit of commitment to visit the same European city a half dozen times. It had been eight years since his last visit, however, and I got the sense it was a long anticipated return. "This is my city," was one of his comments.
"So where are you staying?" I asked.
I think he was staying eight or ten days, so it made sense that he had rented an apartment. It's a great way to feel more connected to life in the city and reduce the restaurant tab at the same time.
"That works out nicely for you I'm sure," I replied. "That way you can cook your own meals."
"Yeah," he stated, "it would be, but I can't eat solid food."
It took me moment to step into the bear trap because he said it so casually and I was on my fourth beer, but ultimately I did take the bait. "What do you mean, you can't eat solid food?"
"In the ulcerating silence perspective comes. The way it always does for it's ransom" (The Tragically Hip: A Beautiful Thing).
He put his head down, and muttered, "I really don't like to talk about it, but I have a condition that's... well... it's going to kill me." He said it with such resignation. "I really should have a feeding tube."
I didn't muster much in return, other than a meek, "Gee, I'm really sorry to hear that."
I let the awkwardness linger for a bit, eyes drifting upwards to the football pitch, searching for some distraction. In the moments that followed, the beer mug two seats over bore witness to some deep, lonely sorrow. I can't imagine the story behind those tears. I wonder who he was texting with those long, shaky fingers.
"Long conversation or idle chit chat, maybe dive in or maybe hang back[?]" (The Tragically Hip: Escape is at Hand for the Traveling Man). We chatted a little more over the hour that followed. Neither about his condition, nor anything else of importance. I'm left with a hint of regret, unsure whether I ever did choose the right words or strike the right balance of distance and intimacy. When it was time to go, he got up and uttered that phrase, "Well, off I go, into the night." And that was it. I pictured him walking the vacant cobblestone alleys alone, lost in that slightly inebriated nostalgic sorrow that inhales treasured familiarity and exhales a final farewell.
Early next morning, as I pulled on the blue Tragically Hip t-shirt I'd bought at their final Edmonton concert, I scrolled my Facebook feed for the news of the day. Gord Downie had died. It was an interesting coincidence to be sure; I hadn't worn that shirt in months.
Gord's final months were punctuated by headlines centred around the legacy of a Canadian music icon as he tirelessly championed reconciliation with Indigenous communities, love, and equality. His death made top headlines in every Canadian news service. Meanwhile, how many other individuals were grappling with the same challenges of impending mortality unnoticed in basement pubs, homes, churches, and hospitals around the world?
There's a lot to un-pack here, and I don't really know where to start. Of course, there's the obvious lesson driven home: no time like the present. Another theme I keep returning to is, "how do we say goodbye?" The Hip lyric "Now the struggle has a name" takes on additional context (beyond the "Truth and Reconciliation" theme) when our final challenge is known. But should our actions be influenced by the "named struggle?" In a purposeful life it wouldn't make a difference, because our actions would always be made in light of our mortality.
We generally don't do goodbyes very well. However, we need the closure of saying goodbye. We see this in the elderly who seem to have an uncanny ability to hold on until they have a chance to see or hear that last special loved one. But I've also been thinking about the smaller goodbyes in life: moving away, bidding farewell to friends, and even returning home from an endearing city like Ljubljana. I'm reminded of the time I turned the wheels north on I-35 from Belt Line Road, instead of the usual south, as I began my journey back to Alberta from Dallas. I think about the wonderful, generous people I knew in those days before Facebook allowed for easy ongoing casual contact; saying "goodbye" really meant it in those days. There are some people I wish I'd said a better "goodbye" to. What if I'd released from an embrace, looked a person in the eyes and said "Have a good life" with absolute sincerity? And while our relationships with people as they cast themselves in and out of our life's script hold great importance to us, so do our relationships with places and things. I think about our first house, the memories created there, and how it looked as I closed the door the last time. I remember the places in the world that continue tug at my heart, like South Africa, Spain, and Slovenia. I'm often asked after a trip if I'll go back, and I generally say "no," regardless of how much I loved the place. There are just too many gifts in this world to unwrap and I'm truly skeptical if a return trip would ever live up to the original as it's painted in my mind.
So how do we say goodbye to these places? For me, photography is the typical way I connect with a place. When in a city, I like to scout a location with a great perspective, arrive half an hour before sunset, watch the steepening angle of light reduce to the point of a sunstar on my camera sensor, and stay until the sky turns blue and the true energy and character of a city is revealed in the glow of the streetlights. Hopefully, this creates some great images, but it also imprints an experience. My photoshoot in Ljubljana from the skyscraper was one of these moments. Could it be that a really great "goodbye" is about intentionally creating the moment you want to remember? We recently watched Shakespeare in Love again, and I was reminded of how great the ending was; William wrote the ending that he wanted to exist, in all its joyous sorrow, which allowed his fantasy to triumph over reality. So long as I never return to Ljubljana, the fantasy that I've written about it can remain true.
Gord was the author of his last act, which was played out on a national stage in a beautiful ritual of bidding farewell to his country, his fans, his band, his Chanie "Wenjacks," and more privately, his family and friends. The sincere "goodbye" at the end of each concert of the tour was proud, joyous, and above all, distinctly final. He had the look of a man relishing his living wake, wanting to press pause on the moment, to drink in every detail and preserve it eternally. So notable was his bravery, that he went outside himself to leave a generous mark on those who admired and loved him. He worked tirelessly until the end to push the Indigenous affairs agenda so dear to his heart. This was a man who wanted to leave a legacy; not for his own sake, but for the benefit of those left behind. Perhaps the glioblastoma added an element of urgency to the last several months; there was a need to compress the pace and trajectory of a life's mission.
"O' for a good life, we just might have to weaken; And find somewhere to go; Go somewhere we're needed; Find somewhere to grow; Grow somewhere were needed" (The Tragically Hip: It's a Good Life if You Don't Weaken).
Now picture my friend in the pub. Why did he go to Slovenia? He'd been several times before, so this wasn't a "bucket list" pursuit. He wasn't seeking something novel; he talked about visiting all his "old haunts." Is Ljubljana, then, a place where he found meaning, or at least was connected to by a strong feeling of nostalgia? I find nostalgia to be an interesting topic, perhaps because I'm a bit inclined that way. It is a therapeutic paradox; the yearning for something familiar but impossible, an un-scratchable itch that is itself more satisfying than if the itch was actually scratched. I believe my identity is rooted in such things. We saw Gord's identity defined publicly in the people places, and things that adorned the last months of his life. In this fellow's more private journey, I really don't know the rest of the story other than Ljubljana was one of those places for him. While the impression that Gord left behind is undeniable, somehow more personally profound is this odd interfacing with a stranger in a basement pub in Ljubljana. So regardless of whatever legacy this person will ultimately leave behind in the circles he travelled, I thought I owed him a few words as tribute. Whether or not he set out to make the last days, months, or years of his life count for others, he did manage to do something profound in my life. He's not someone I'll ever forget; each time I think about my surreal few days in Slovenia, I'll be reminded of these meandering thoughts of nostalgia and goodbyes, whether my struggle be near or far.
Here's a video of my trip, full of nostalgia: