Wednesday, May 28
We started our day with a stroll down a path of wet volcanic sand to Dettifoss, and then further to Selfoss. The sun was already warm by 9 am, and we were happy to be back to the RV by the time the tour buses arrived. We were really appreciating the convenience of the camper, which allowed us to stop whenever and wherever we liked. Few places seemed to have signs restricting overnight parking.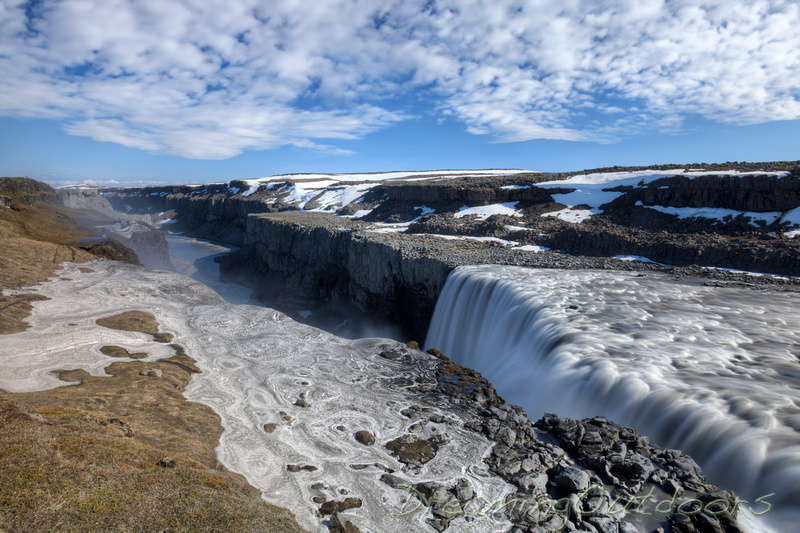 Back on the road, we soon encountered the Namafjall mud pots. This scene was a remarkably colorful but odorous, hissing landscape of sulphuric gases. We were able to wear only our t-shirts in the hot morning sun and save our outer layers from the stench.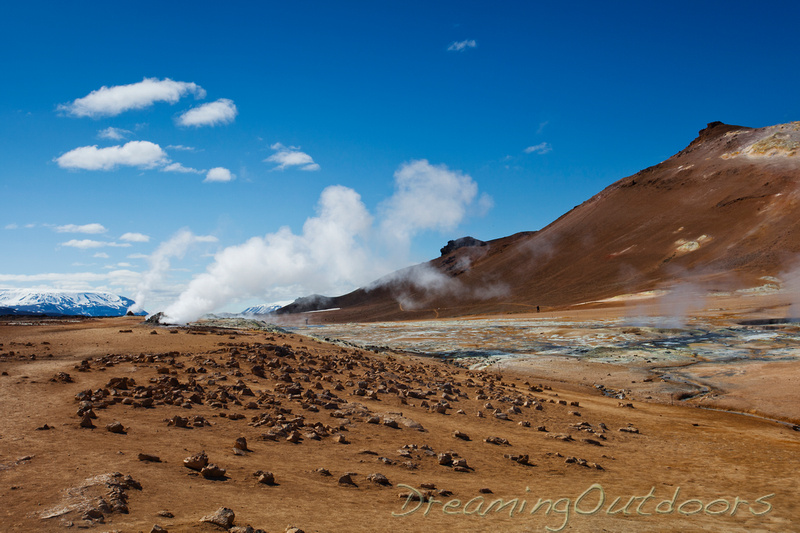 We then headed up to Viti to see the crater and power station at Krafla, which still looked very much like a winterscape.
Over the pass to Myvatn, we soon found the road to the famous hot springs and took a lengthy break to soak in the bright turquoise pool. It was interesting because often your left leg could find a hot jet while your right settled in a cool spot. At $30 per person, it was still worth the money. We found some humor in watching the bus-load of noisy old Germans pile into the pool, and were slightly disturbed by a young couple a corner who we were quite certain were having sex.
Lake Myvatn is a bizarre volcanic landscape, perhaps more interesting than beautiful. The flies were bad next to the lake, which made filling with diesel a nasty experience. We talked about having dinner at the Cattle Shed (it is exactly what it sounds like), but their unfamiliarity with celiac disease and high prices had us moving on towards Akureyri by way of Godifoss: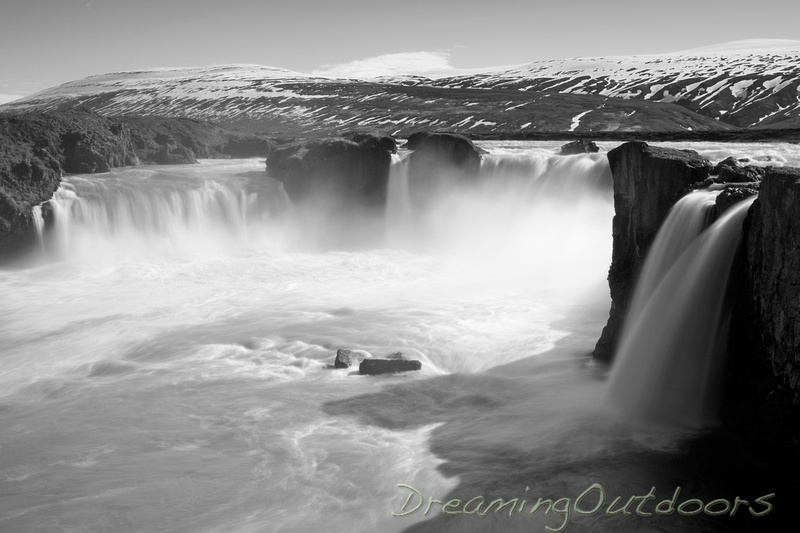 Akureyri was a lovely town, and our favorite urban centre so far. We ate at Noa restaurant which came highly reviewed on TripAdvisor. It touted "local food, local beer, and local art," and did not disappoint. We started off by being surprised sashimi, which the owner boasted was the best he had served. I couldn't refuse his offer, but sadly discovered that even the best sashimi is nearly unpalatable for my prairie tongue. Fortunately, the Viking beer I had was delicious and washed it down nicely. While Erin had the chef's salad, I tried the local meat and cheese platter. Not knowing what the meat was, I enjoyed what tasted like prosciutto, lamb, and venison. The dark, salty wilder meat was very good, and I asked the waiter afterwards. He said it was horse. Our main course was a shared pan of fresh cod fillet, and it was terrific.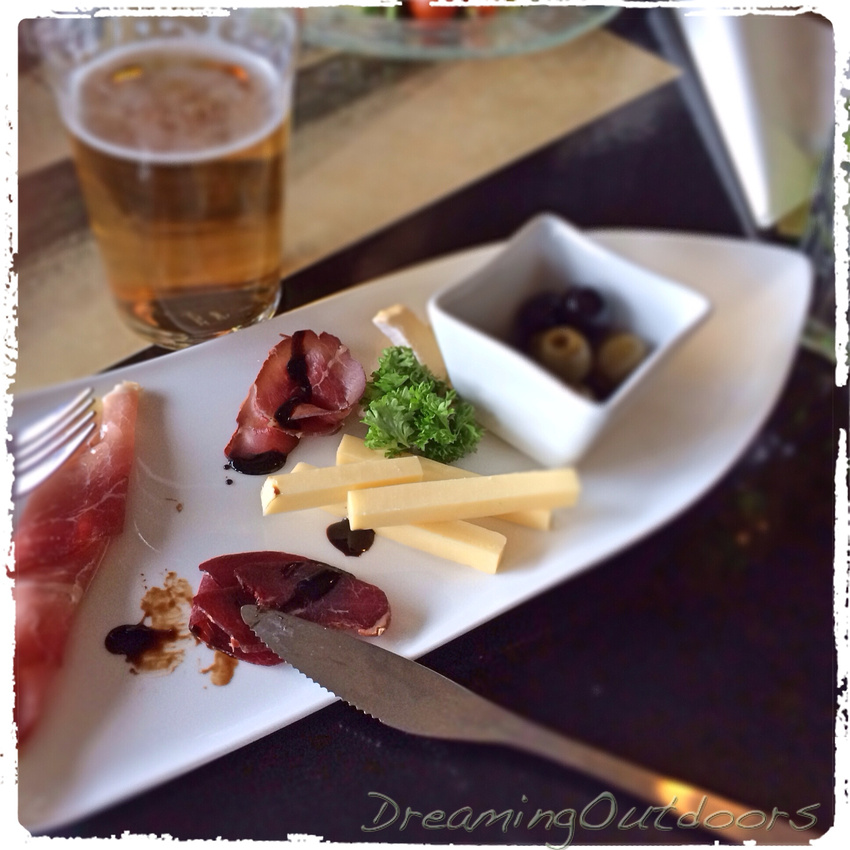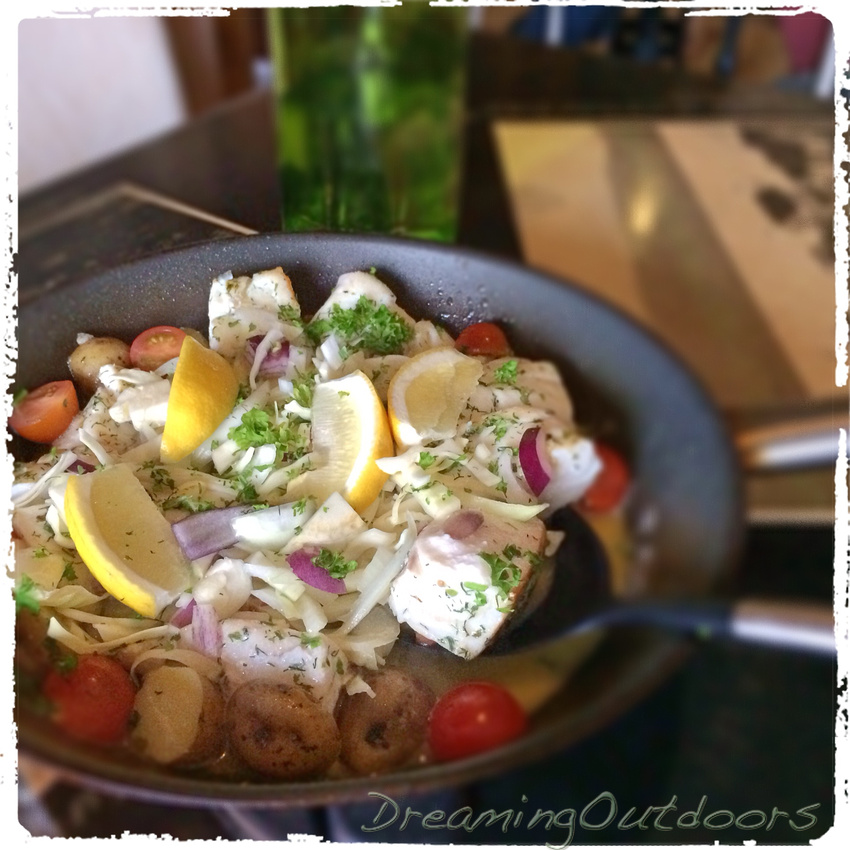 It cost us almost $120 for this night out, but we enjoyed the local cuisine and personal service. Also, we had been making our own meals in our little RV kitchen and were ready for a break. We saw the parking lot behind the newly-opened Hof arts centre, next to the harbor, and pulled in for the night. The building was gorgeous in its design, cylindrical in shape, and the sides were reminiscent of the basalt columns seen throughout Iceland.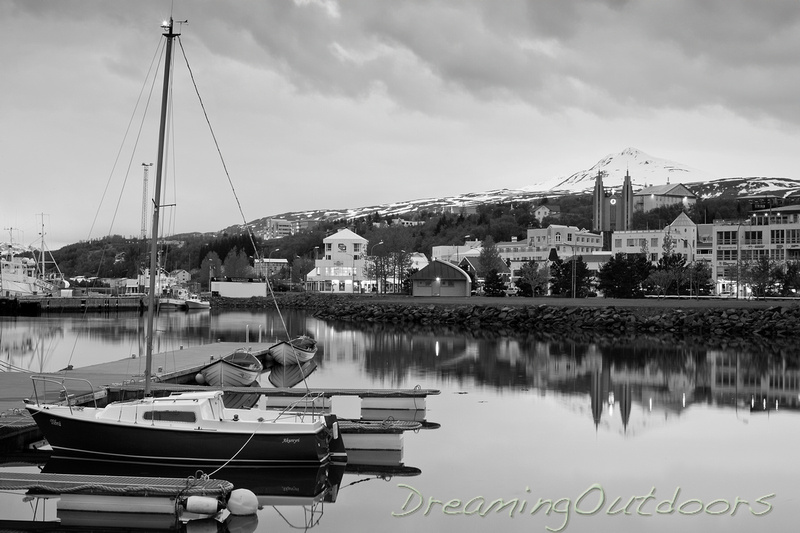 While Erin went to bed, I caught up on processing photos and ventured out to take some more. The bar scene seemed to be in full swing on this weeknight, and a few local boys wanted to be models for me. Icelanders like to party.