On the morning of February 19th, I arrived at Chris' house in Edmonton to begin our journey to the Trophy Chalet in Wells Gray Provincial Park, BC. Lukas arrived shortly and we threw his gear into my Equinox and hit the road. We met Jon, who had driven from Rocky Mountain House, in the parking lot outside the Bear's Paw Bakery in Jasper. We had a gracious offer from Cindy to allow us to park his jacked up Toyota outside her apartment so she could keep her eyes on it while we were away, so after dropping the vehicle and having a bite to eat, we headed west again.
We pulled into Clearwater around 5 pm and met up with Dustin & Jessica, who had organized the trip, at the Wells Gray Inn. We also met Andrew & Valerie and Greg & Melissa who had driven from Vancouver. The ten of us had a great dinner at the Old Caboose restaurant, finished our final packing, and went to bed with great anticipation.
Monday
We met our guides Ian and Nick at the hotel. We shuttled vehicles to the trailheads, with the original plan to start at the Trophy Mountain trailhead, ski out of the Trophy Chalet for a few days, then traverse to the Discovery Chalet and ski out to the exit point. The Sno-Cat rattled us up the logging road 11 km to the true trailhead and we were all keen to begin the adventure. With packs heavy with gear, food, and (of course) wine, we skinned up to the cabin and settled in. It was a terrific hut, furnished with propane stove, lighting, solar power, composting toilets, and, best of all, a sauna. Let the skiing begin!
Tuesday
Here are Jess, Val, and Dustin preparing to drop into the Terminator chute. We had good stability all day. Temperatures were mild with intermittent flurries.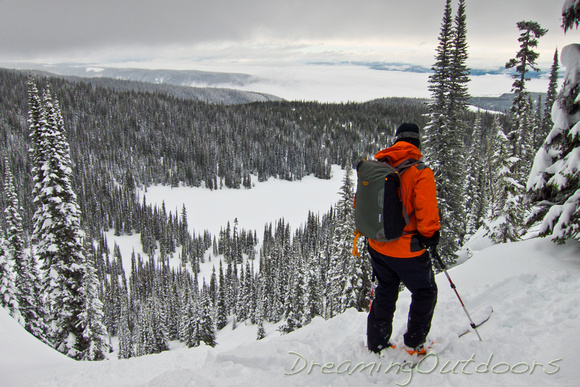 Wednesday
Snow picked up overnight and we woke up to poor visibility and flurries. We spent most of the day in Lower Meadow and Steep Trees and finished the day with a nice run down from a 1964m subpeak south of the chalet. The snow was excellent.
Jon kept us entertained in the chalet with the guitar; some might say that he has the voice of a redneck angel. We played some cards, which mostly involved Chris and I getting our asses handed to us in crib by Jessica and Lukas.
Thursday
We split into two parties for this day. While the Vancouver crew spent most of the day in Lower Meadow, the rest of us took some sweet lines down to Caligata Lake. There were some steep trees and open glades, and we took some time to get some action shots. Here are Chris, Dustin, and Lukas doing their thing:
We then skinned up to Mid Mountain. Despite the snow, stability was still good. We saw that a small windslab had released at the top of Mid Mountain but at treeline and below the snowpack was less wind-affected.
We took a look at the Elevator Shaft couloir and it looked good. Nick, then Lukas, Chris, and myself had the run of the week. It was so good that Lukas accused Chris of having an erection at the end of the run. Here are the guys dropping in: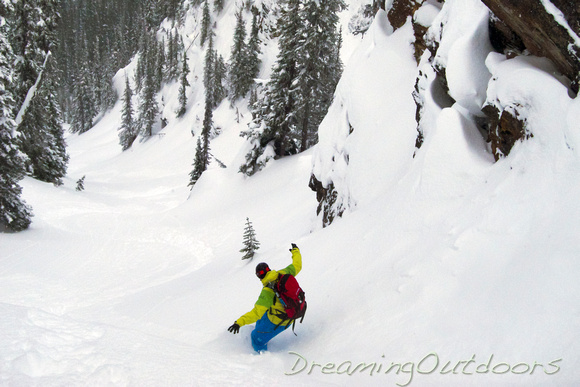 Once at the bottom of Mid Mountain we reunited with Ian, who would relieve Nick of his guiding duties for the rest of the trip. And at the same time, a remarkable thing happened: the skies started to clear! For the skin back up to the chalet, we had beautiful late day sun and I frantically started snapping photos at every turn.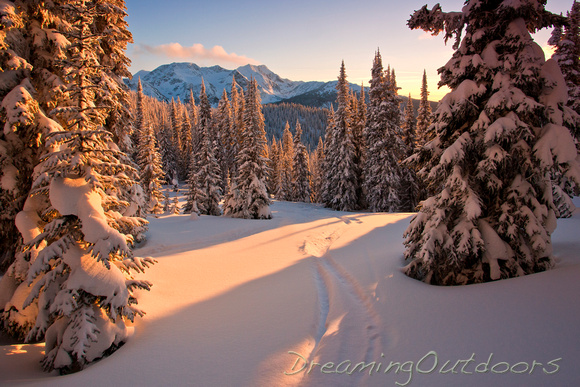 The creek that drains Lower meadow: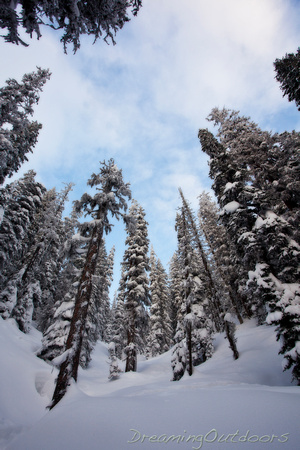 Steep trees: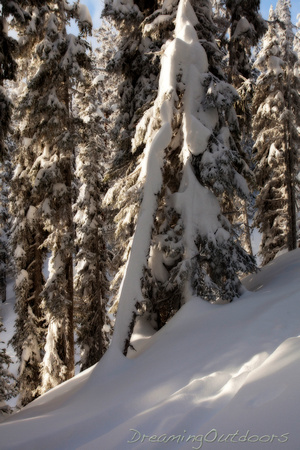 Jessica traversing Lower Meadow: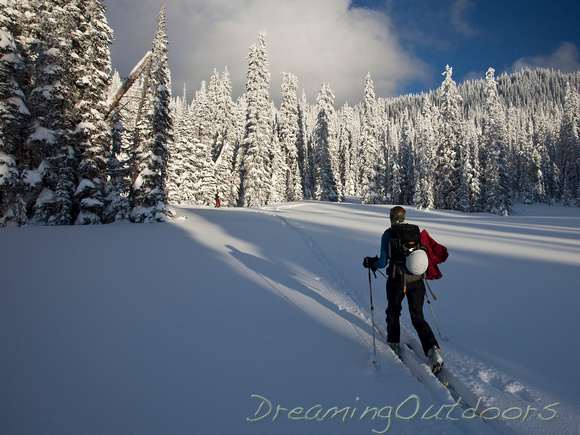 Climbing to the hut: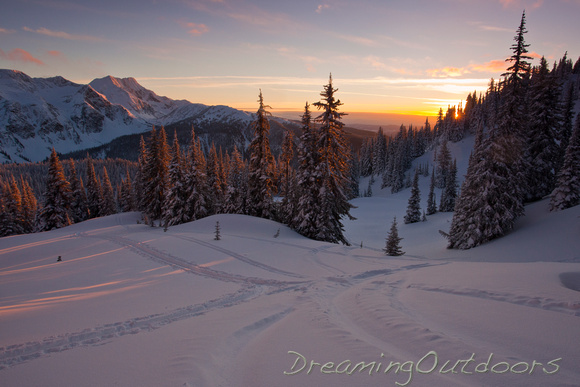 Lukas saying "peace out" after a long and fulfilling day:
Scenic outhouse: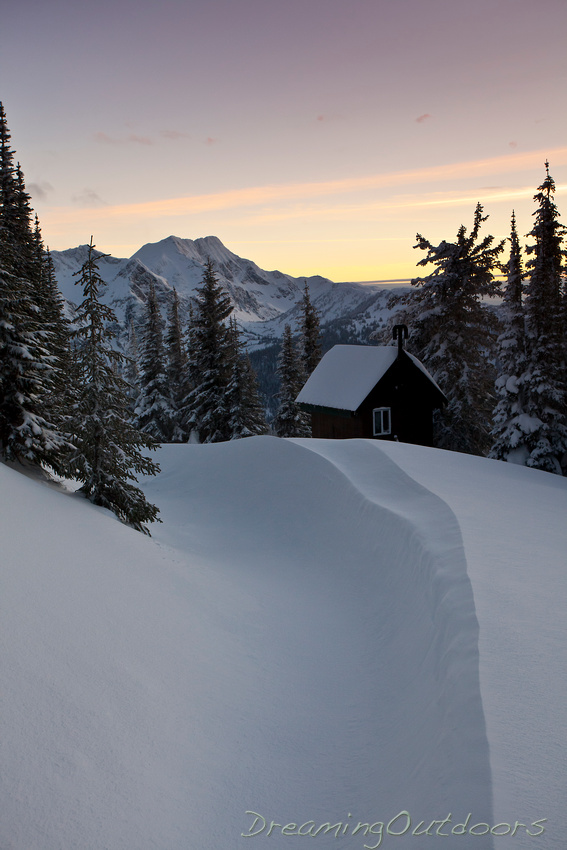 Lukas saying..."and this is how we roll"
As a few of us were stargazing out behind the hut, we noticed a peculiar full moon as Jon had just come out of the sauna to join us.
After such a terrific day, we celebrated with some good food, plenty of wine, and perhaps too much rum. It turns out that drinking in the sauna can make your head swim a little bit...
Friday
Well, the weather reprieve was short-lived. More snow and wind overnight, accumulating close to a metre over our trip. The stability in the snowpack was starting to break down. With a traverse to Discovery Hut looming on Saturday, Ian thought it best to break trail to Lunch Lake. We took a more conservative approach to Terminator and still had a good run after ski cutting the slope. We were starting to release a lot of soft slab but the surface hoar layer now 80 cm down was still unresponsive. We did a couple laps below Look-out Lake and we did the Cleopatra run again. All really good skiing, but we were a lot more careful. I ski cut a big sluff all the way down to the bottom of the run. I think we all were greatly appreciative of Ian's guiding skills and his ability to teach at the same time. We learned a lot with regards to managing the weather, snowpack, and terrain under such conditions.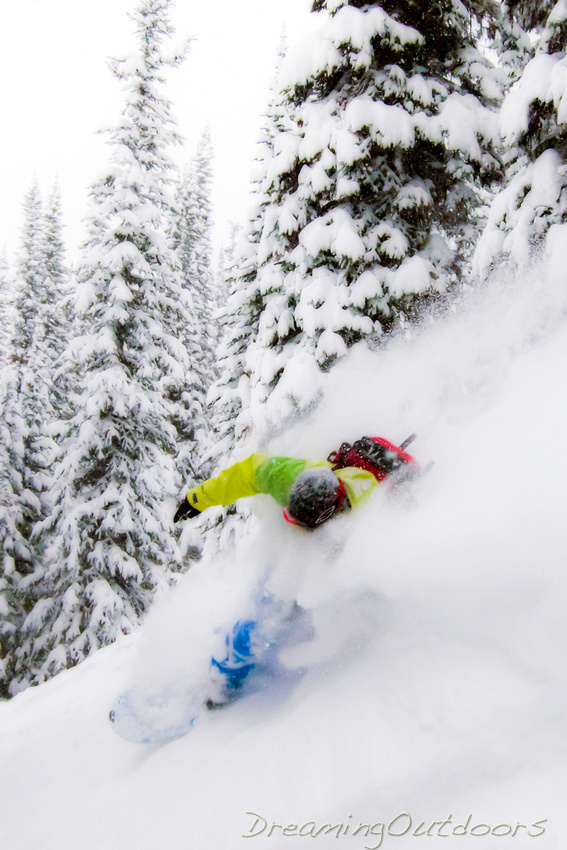 Saturday
The snow and low visibility had persisted into the morning. Valerie had been suffering all week with her IT band, and Lukas wasn't up to completing the slog to Discovery, especially with a 6 am flight looming to Winnipeg on Monday morning. Val, Andrew, Lukas and I decided to ski down to meet the sno-cat at noon which would be dropping off another load of skiers.
We were very fortunate on this trip for a few reasons. At a time when all of B.C. was under high avalanche danger, we enjoyed surprisingly good stability and an abundance of snow that none of us had ever experienced. We enjoyed different styles of guiding by Nick and Ian and learned much from both. The accommodations were great and the company was terrific. And the sun came out just long enough for us to fully appreciate the paradise we were fortunate enough to occupy for just a short time. Thanks to everyone for making it a great experience!