After a long August, Erin and I finally had a chance to get away on September long weekend. We spent the night at the Overlander Lodge outside Hinton and drove to the Edith Cavell Road to park our vehicle and hitch a ride to the Portal Creek trailhead. Our plan was to hike the loop from Maccarib Pass and exiting Astoria Creek.
No sooner had we parked our vehicle did we notice a suspicious white Ford F-150 with a Team Canada plate coming up the road. We had hiked with Darren and Steve a few times before, and they had brought Shauna along with them for her first backpacking trip. They started down Astoria Creek, and we planned to meet them during our second night at Clitheroe campground. What a nice surprise!
Despite being at a trailhead along a slow mountain road filled with tourist traffic, it took us 45 minutes to hitch a ride. I don't know what is so suspicious about a young couple in hiking gear in, you know, the mountains... but whatever. We finally found someone who didn't think we were going to kill them and hit the trail.
The hike to Maccarib campground was beautiful the entire way. The only part we didn't like was near Portal Creek campground, which was overgrown with thick willows and followed a noisy creek. Perfect place to run into a bear. We did run into a big animal but it wasn't until beyond the pass.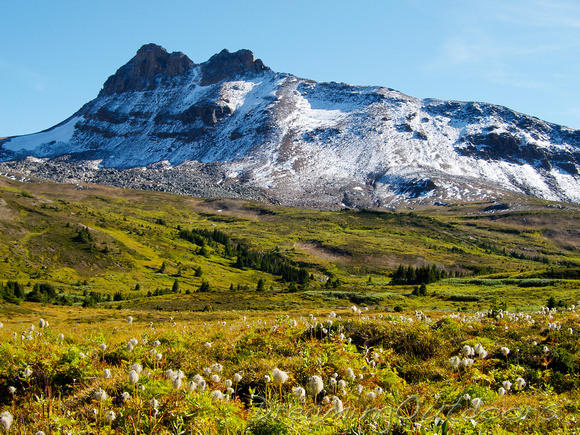 This was something I'd been hoping for: a big bull woodland mountain caribou. He was quite tolerant as I snapped a few pictures, as caribou tend to be (which is certainly part of their undoing).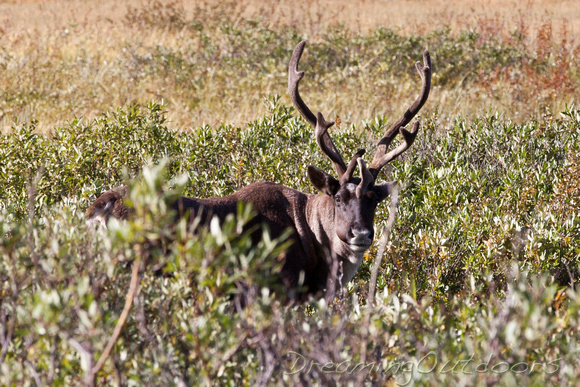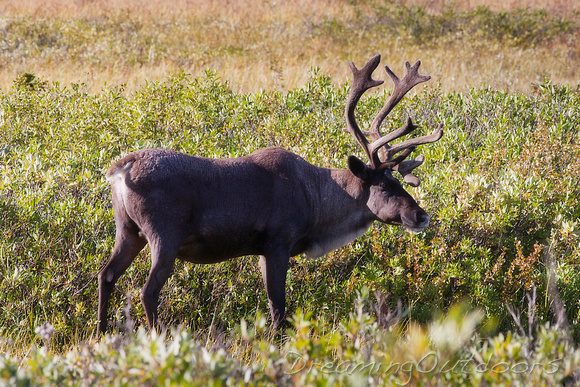 We set up camp at Maccarib campground with the Ramparts in view, and were eager for the next morning to see the massif up close. This photo looks back towards Maccarib Pass and Clitheroe.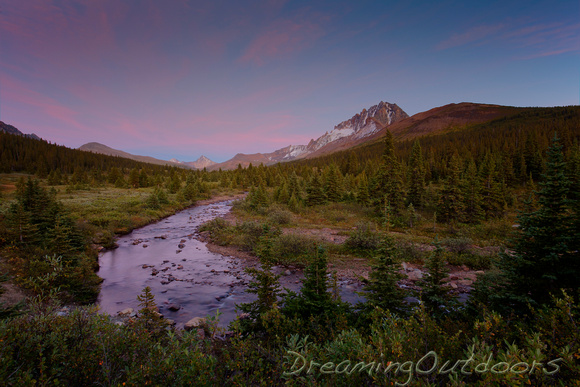 The next morning, we hiked down to Amethyst Lakes. What a view! We had contemplated a side trip to Eremite Valley, but chose instead to spend the day basking by the lake, eating, and playing cards. Why leave something so perfect?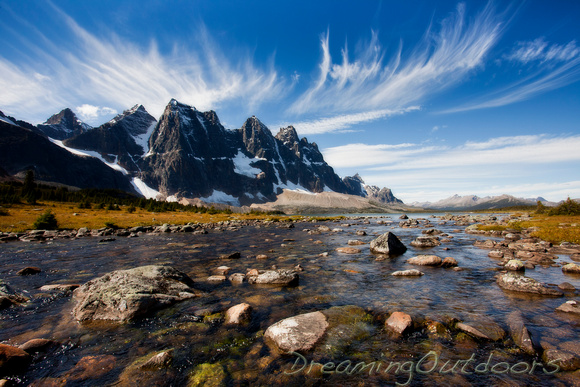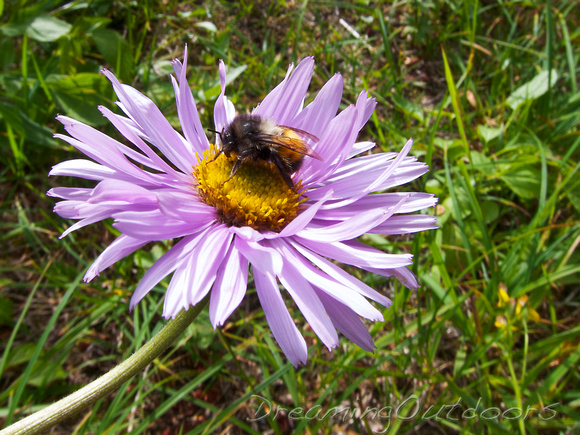 We then hiked up to Clitheroe to our camp and hung out with Darren, Steve, and Shauna for the evening. We had a lot of laughs as usual and spent time catching up on everyone's summer trips.
The final morning, we went down to the lake to bid a reluctant farewell to the enchanting valley and take some final photos.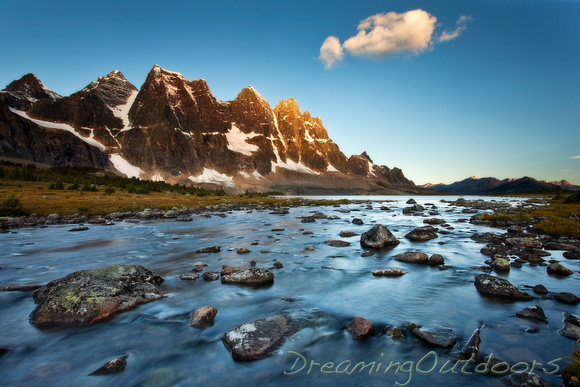 We saw two caribou cow/calf pairs playing in the soggy meadow by the lake. You can see them in this picture if you look closely.
And the final views on a perfect sunny day as we climbed towards the switchbacks which would bring us down to Astoria Creek.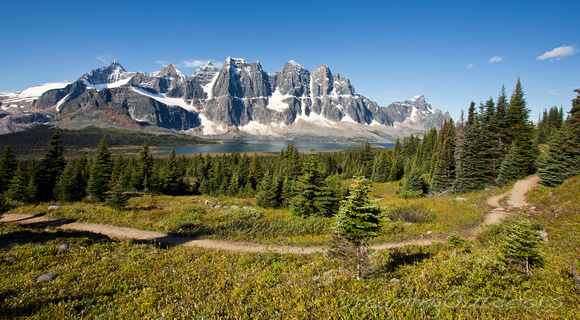 The only unpleasant thing about the Tonquin Valley (other than mosquitoes if there has not been a hard freeze yet) is the muddy and rutted trails which are mercilessly pounded by horse traffic. We could be heard cursing the horses on more than one occasion.
We met up with a nice couple, Clayton and Emily, on the hike out. Conversation always shortens the day, so we enjoyed the last few hours together before returning to our vehicle at the Edith Cavell road. We hope to meet up with those two again.